Cutlery made in Seki started from Japanese swords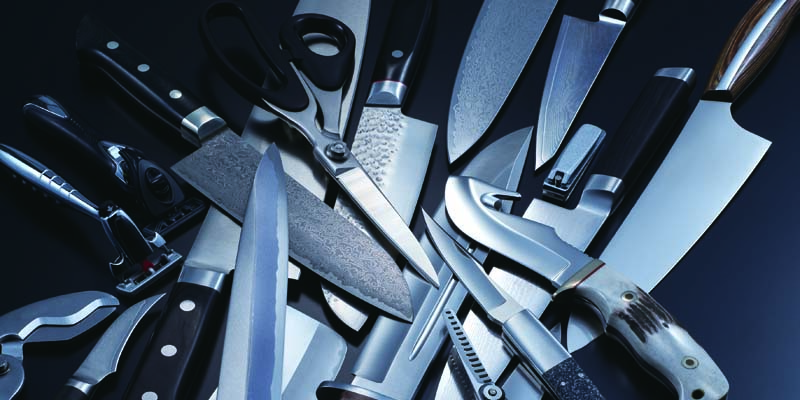 The 800-year-old history of knife-making in the town of Seki started after Motoshige andKaneshige, who are said to be the origin of swordsmiths in Seki, came to this place fromthe end of the Kamakura period (1185–1333) through the beginning of the Muromachiperiod (1336–1573.)
The bellows exhales its hot breath, the fiery block emits sparks, the sound of the hammer resonates, and then you hear the sound of water as it swallows the heat in one gulp—therein exists the sweat of swordsmiths and the strong spirit of product making.
The swords of Seki, which are forged using the quaternity of iron, water, pine coal, and clay, are said to be the most beautiful and sophisticated of Japanese swords. We boast this dreamlike sword manufacturing, where strong, sharp edges are created with a unique smithing method called Seki-den.
Such techniques and the spirit of sword making in Seki have been handed down over many years from generation to generation and are still used in the various fields of the cutlery industry in Seki up to today, making the city known as one of three major cutlery producers in the world.
In Seki, we produce a wide variety of kitchen knives, knives, scissors, medical equipment, and industrial machinery.
Because accuracy enhancement and the homogenization and high-volume manufacturing of products are wanted in recent years, we aim at integration with cutting-edge technology and have achieved high-performance production mechanization by introducing artificial intelligence (AI) and robots.
However, it's not that the handed-down techniques of craftsmen are lost.
Skilled technicians' know-how is utilized in the pivotal points of high-performance mechanized manufacturing.
Simultaneously, we are also keen about fostering our inheritors and have produced many young technicians.
The cutlery making skills in Seki, where the spirit of swordsmiths is imprinted, will continue to further evolve, face changes of the times, and create edges that will enrich your life.
Facility information of Gifu Cutlery Hall
Experience
You can even try your hand at sharpening blade the old-fashioned way, at no cost!
SEKI CUTLERY MARKET
With a whopping 2,500 blade-related items used in everyday life,from knives to nail clippers,this shp offers the highest quality produsts at 10%~20%off the market price. There is also an exhibit of the assorted edged products made in Seki City.
| | |
| --- | --- |
| address | 4-6 Heiwa-dori, Seki-CityHamono Kaikan-mae Station (1minute waik) |
| TEL&FAX | TEL 0575-22-4941/FAX 0575-22-4942 |
| | New Year,s holiday season(Rdopens on January 2)  ,9am ~ 5pm |